The Sustainable Development Goals in Malawi
The Sustainable Development Goals are a global call to action to end poverty, protect the earth's environment and climate, and ensure that people everywhere can enjoy peace and prosperity. These are the goals the UN is working on in Malawi:
Story
26 February 2021
African LDCs can achieve SDGs
The Africa Regional Review Meeting which Malawi hosted this week (22 to 26 February) has generated concrete ideas on how to accelerate sustainable development in least developed countries (LDCs). Speaking during the closing session of the meeting, which was held in preparation for the Fifth UN Conference on Least Developed Countries in Qatar next year, Malawi Vice President, Saulos Chilima, called on LDCs to improve on action to achieve agreed goals on sustainable development. "LDCs have to embrace structural transformation which entails the transitioning from agriculture to manufacturing; increasing innovations to utilise our abundant resources; and focusing on value creation," said Chilima. He also said the international community should accelerate financial inclusion and access to resources to build resilience against shocks in LDCs. On the impact of COVID-19 in LDCs, Chilima said: "We are hopeful that we will be finding innovative ways to build back better, cleaner and stronger." UN Under-Secretary-General and High Representative for the Least Developed Countries, Landlocked Developing Countries and Small Island Developing States, Fekitamoeloa Katoa 'Utoikamanu, said LDCs have the power to solve their challenges. "Building back better will be a challenge, but there is hope when people in countries work together," said 'Utoikamanu. "The pandemic also presents an opportunity to do things differently and accelerate true transformation, for example, transforming the digital divide into a digital bridge." Speaking earlier during the closing session, Malawi Minister of Youth and Sports, Ulemu Msungama, briefed delegates on the Side Event on Youth and SDG Acceleration, which Malawi Government and the UN in Malawi co-hosted at the meeting on Tuesday (23 February). Msungama said the side event demonstrated that LDCs will not achieve sustainable development if the majority of their populations, including the youth, are not included in development processes. "Governments should meaningfully engage young people and provide a conducive environment for youth to participate at all levels of decision-making," he said. "Governments should put in place deliberate systems and platforms that can strengthen and retain engagement, social contact, dialogue and trust with young people." During the side event, UN Resident Coordinator, Maria Jose Torres, said youth action and voice are critical to acceleration of the SDG agenda in LDCs. "The only way to achieve the change that we need is through ensuring that youth are at the forefront of development initiatives in LDCs," said Torres. "The UN is determined to tap into the creativity and potential of young people to advance sustainable development." Over 900 delegates registered for the Africa Regional Review Meeting which had eight dialogue sessions on topics such as building peaceful, just and inclusive societies; mobilizing resources for sustainable development in African LDCs; and social and human development in African LDCs. The report of the Africa Regional Review Meeting will be submitted to the 5th UN Conference on Least Developed Countries in Doha, Qatar, in January 2022 to feed into the development of a new Programme of Action to accelerate sustainable development in LDCs.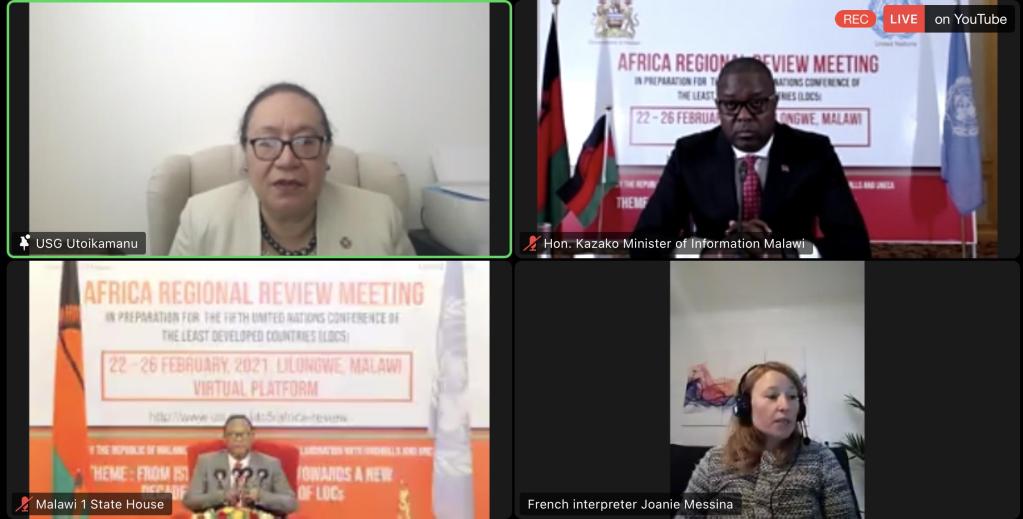 Story
26 February 2021
The world is in crisis: Transforming LDCs is imperative
COVID-19. Climate change. Economic collapse. These crises are overlapping, existential and concurrent. And they herald great change, some of which is already upon us. COVID-19 has been the latest catastrophe for Africa's economies, collapsing commodity prices, disrupting manufacturing and virtually killing off international tourism. The result has been a sharp reduction in GDP growth. Together with widening deficits, unsustainable debt, and a drop in Foreign Direct Investment and remittances, the effects of COVID-19 will jeopardize the progress of the Least Developed Countries in Africa towards sustainable development for years to come. The virus knows no borders, and so the vaccine itself must not be subject to nationalism or protectionism. But likewise, climate response plans must be cooperative, ambitious and fair. Economic recovery packages must focus on debt eradication and have the most vulnerable at their heart. This confluence of crises demands a new solidarity. 46 countries are designated as being the 'least developed countries' or LDCs - and 33 of these are in Africa. These countries, from Angola to Zambia, face multiple challenges, including weak economies and low exports – issues that have only got worse since the pandemic struck. All of these problems are compounded by other challenges like conflict, inequality and climate change. A high rate of urbanisation among African LDCs makes cities and urban centres increasingly vulnerable to the impact of disasters. Without strong and purposeful governance that aspires towards structural transformation and sustainable development, economic and social outcomes in these LDCs will remain weak. A major meeting will be held virtually in Malawi this month to help build an ambitious new programme for action for LDCs to build momentum and partnerships as the final decade of action for the 2030 agenda gathers pace. The meeting will assess how African LDCs and Haiti are achieving sustainable development, and agree recommendations to help them accelerate progress over the next decade. The meeting will also seek to strengthen support by the international community for the LDCs. The outcome of the African Regional Review will lay out plans for a renewed partnership for sustainable development between the LDCs and their development partners. That new partnership will be agreed at the Fifth United Nations Conference on the LDCs – known as LDC5 – a major landmark in the efforts of LDCs and their partners to overcome core challenges, including the COVID crisis. Hosted by Qatar and taking place in early 2022, decisions made by world leaders at LDC5 will have the potential to transform the lives of no less than a billion of the world's most vulnerable people. Given the ongoing COVID-19 pandemic, the African Regional Review meeting will be held online and bring together ministers of Finance, Planning and Economic Development from across the continent. They will be joined by representatives from development partner nations, international and regional organisations, the private sector, academia and civil society. The meeting is based on a bottom-up approach to preparing for LDC5 that ensures the needs of LDCs are clarified and heard. African LDCs have already completed national reviews on development progress and these will be the main inputs for the regional meeting. LDC5 will represent a reaffirmation of the global commitment to the special needs of LDCs at this critical time. With the COVID crisis still in full flame, climate change untamed and a new economic and debt crisis rolling around the world, the stakes for the conference could not be higher. And so, with a year to go, the preparatory process is already well underway. It is not hyperbolic to suggest we are facing a difficult set of complex problems like humanity never has before. And, as is too often the case, it is the weakest economies and the most vulnerable countries that are facing the effects most. It is precisely because of the scale of our problems that we must be honest with ourselves, and each other. We have the capacity to handle everything ahead of us – we just need the will. We have great multilateral systems of cooperation – we just need to invest in them. And we have incredible energy and activism, especially from our youth – we just need to listen to what they say. The pandemic has erected physical borders between us, and these will be temporarily. We must not let it erect new ideological or political barriers, which will be far longer lasting. Great change seems inevitable and just over the horizon. How we meet that change will not only say a lot about the systems we have built but will set the next course for humanity. Authored by the United Nations Office of the High Representative for the Least Developed Countries, Landlocked Developing Countries and Small Island Developing States (UN-OHRLLS), which supports groups of vulnerable countries in the United Nations System.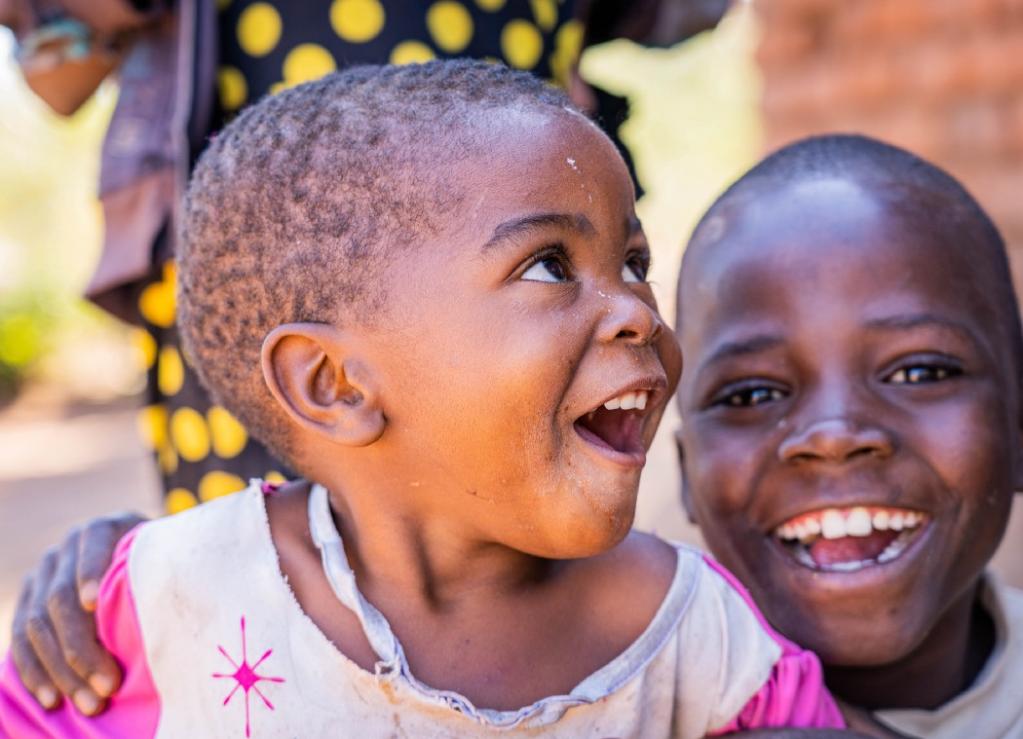 Story
22 May 2020
A Coordinated Response to Coronavirus
On 11 March 2020, the World Health Organization (WHO) characterized the coronavirus (COVID-19) viral disease a pandemic, but it is a pandemic that can be controlled.
Coronavirus (COVID-19
) is the infectious disease caused by the most recently discovered coronavirus. Dr. Tedros Adhanom Ghebreyesus, who heads the UN agency, said,
in his statement
, "Let me be clear: describing this as a pandemic does not mean that countries should give up." The UN Secretary-General urged all countries to take a comprehensive approach tailored to their circumstances – with containment as the central pillar. COVID-19 is affecting millions of people, impacting countries' health systems and having widespread social and economic effects. The UN entities working on development, the
United Nations Sustainable Development Group
, are supporting countries in their preparedness and response plans. This page convenes sources of information and guidance from the
World Health Organization
(WHO) and the
United Nations
(UN) regarding the current outbreak of novel coronavirus (COVID-19). WHO is working closely with global experts, governments and partners to track the spread and to provide guidance to countries and individuals on measures to protect health and prevent the spread of this outbreak. Covid-19 Response in Malawi The UN is providing decisive and coordinated support to Government efforts, together with development partners and non-government organizations, to strengthen the ability of Malawian institutions to respond to the COVID-19 crisis and ensure that no one is left behind. Technical advice provided by WHO has been critical to the design of Malawi's national COVID-19 health sector plan, including establishing laboratory testing capacity and training public health specialists. Key moments on Covid-19 response in Malawi 20 Mar 2020 :
Declaration of State of National Disaster
02 Apr 2020 : First three Covid-19 cases are confirmed in Malawi 07 April 2020: First Covid-19 death was recorded in Malawi 08 Apr 2020 :
National Preparedness and Response Plan
seeking $345 million 14 Apr 2020 : 21-Day Lockdown declared:
Minister
and
President
statements 17 Apr 2020 : High Court grants
7-day court injunction
against lockdown 29 Apr 2020 : High Court
sustains injunction
against the lockdown 04 May 2020: Humanitarian actors seek US$140.1 million in
Emergency Appeal
01 Aug 2020:
Zikomo Presidential Award
for health workers introduced 09 Aug 2020: Govt stresses need to also
treat other chronic illnesses
27 Aug 2020: Schools to start
re-opening in phases
from 7 Sep 2020 Guidance on Covid-19 response in Malawi
Malawi Public Health (Coronavirus and Covid-19) Prevention, Containment and Management Rules (2020) - August 2020
National Covid-19 Preparedness and Response Plan
Covid-19 Flash Appeal for Humanitarian Community in Malawi
Guidelines for Schools in Malawi on Prevention and Management of Covid-19
Covid-19 Workplace Guidelines for Malawi
Malawi Guidance on Face Masks
Guidance on Home-Based Management of Persons with Asymptomatic and Mild Covid-19
Covid-19 situation reports and updates for Malawi
Malawi COVID-19 Situation Update No.40 as of 11th May 2021
Malawi COVID-19 Situation Update No.39 as of 16th April 2021
Malawi COVID-19 Situation Update No.38 as of 22nd March 2021
Malawi COVID-19 Situation Update No.37 as of 10th March 2021
Malawi COVID-19 Situation Update No.36 as of 29th January 2021
Malawi COVID-19 Situation Update No.35 as of 18th January 2021
Malawi COVID-19 Situation Update No.34 as of 31st December 2020
Malawi COVID-19 Situation Update No.33 as of 23rd December 2020
Malawi COVID-19 Situation Update No.32 as of 4th December 2020
Malawi COVID-19 Situation Update No.29 as of 9th October 2020
Malawi COVID-19 Situation Update No.28 as of 25th September 2020
Malawi COVID-19 Situation Update No.27 as of 18th September 2020
Malawi COVID-19 Situation Update No.26 as of 11th September 2020
Malawi COVID-19 Situation Update No.25 as of 04th September 2020
Malawi COVID-19 Situation Update No.24 as of 28th August 2020
Malawi COVID-19 Situation Update No.23 as of 21st August 2020
Malawi COVID-19 Situation Update No.22 as of 14th August 2020
Malawi COVID-19 Situation Update No.21 as of 7th August 2020
Malawi COVID-19 Situation Update No.20 as of 31st July 2020
Malawi COVID-19 Situation Update No.19 as of 24th July 2020
Malawi COVID-19 Situation Update No.18 as of 17th July 2020
Malawi COVID-19 Situation Update No.17 as of 10th July 2020
Malawi COVID-19 Situation Update No.16 as of 3rd July 2020
Malawi COVID-19 Situation Update No.15 as of 26th June 2020
Malawi COVID-19 Situation Update No.14 as of 19th June 2020
Malawi COVID-19 Situation Update No.13 as of 12th June 2020
Malawi COVID-19 Situation Update No.12 as of 05th June 2020
Malawi COVID-19 Situation Update No.11 as of 29th May 2020
Malawi COVID-19 Situation Update No.10 as of 22nd May 2020
Malawi COVID-19 Situation Update No.09 as of 15th May 2020
Malawi COVID-19 Situation Update No.08 as of 08th May 2020
Malawi COVID-19 Situation Update No.07 as of 01st May 2020
Malawi COVID-19 Situation Update No.06 as of 24th April 2020
Malawi COVID-19 Situation Update No.05 as of 17th April 2020
Malawi COVID-19 Situation Update No.04 as of 10th April 2020
Malawi COVID-19 Situation Update No.03 as of 03rd April 2020
Malawi COVID-19 Situation Update No.02 as of 27th March 2020
Daily Updates:
COVID-19 Daily Situation Reports by Public Health Institute of Malawi
Covid-19 platforms in Malawi
COVID-19 National Information Dashboard
COVID-19 3W Interactive Dashboard-Malawi
Malawi Emergency Appeal Financial Tracking
COVID-19 Calendar of Meetings
General guidance on Covid-19
COVID-19 Technical Guidance
COVID-19 Advice for the Public
Busting Myths on COVID-19 pandemic
COVID-19 Frequently Asked Questions and Answers
Advice on Use of Masks to Prevent COVID-19 infections
Covid-19 and leaving no one behind
COVID-19 and Human Rights
Impact of COVID-19 in Africa
Impact of COVID-19 on Women
Impact of COVID-19 on Children
Impact of COVID-19 on Older Persons
Disability-Inclusive Response to COVID-19
COVID-19 and the Need for Action on Mental Health
Responding to Socio-Economic Impacts of COVID-19
UN Framework for Immediate Socio-Economic Response to COVID-19
The Secretary-General's UN COVID-19 Response and Recovery Fund
Covid-19 Research and Development
Global research on coronavirus disease (COVID-19)
To stay up to date with the latest information, please visit:
World Health Organization
Latest news on the United Nations' response
Coronavirus (COVID-19) Situation