Giving children hope through Children's Corners
Despite their problems, Sositeni's mom is happy that her son attends Chikondi Children's Corner.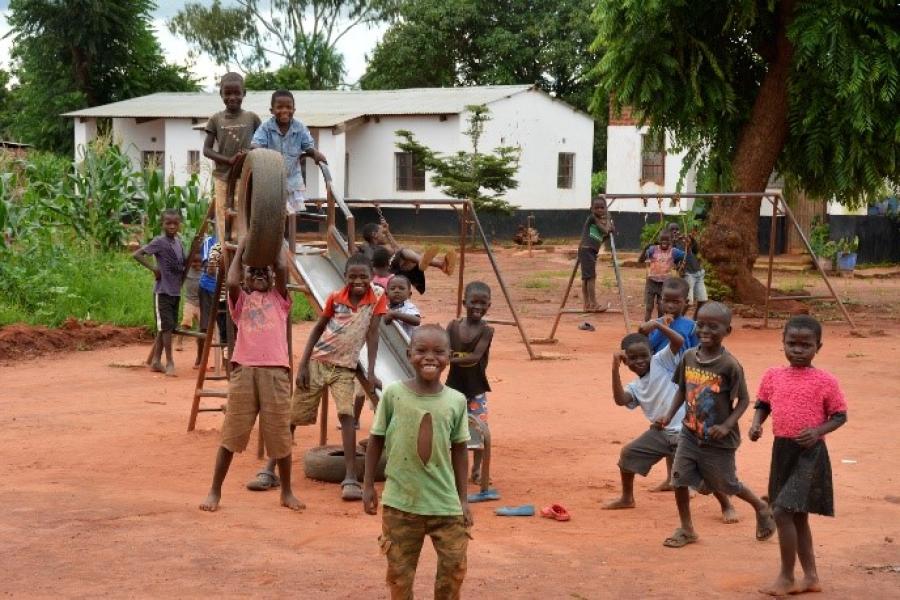 Photo | © UNICEF Malawi/2019/Andrew Brown
Chikondi Children's Corner is a colourful and vibrant Children's Corner in Mchinji District. It has an exciting playground, with jungle gyms and swings, as well as a building that doubles as a community-based childcare centre during the week. The staff are committed and the local community is engaged. Volunteers have created homemade educational materials, including posters made from recycled sacks.
Alice Juma has worked at the Children's Corner in Mchinji District since its establishment in 2004. She is now Lead Facilitator. Her role is to manage the children's corner by checking on the children's welfare, teaching them various life skills, and organising them in groups to play together. She has four children of her own, who also attend the Children's Corner.
"We work with community committees to cook food for the children and give it to them when they come to the Children's Corner on Saturday," she says. "I also manage the community-based childcare centre [CBCC] in the same building.  I teach children from 3-6pm every day during the week."
Alice was trained by UNICEF in 2015, along with three others from the same Children's Corner. "In our training, we learned about the journey of life [child's life story] and the tree of life [family tree]. We were also taught how to cater to children from different backgrounds, how to support children who are HIV positive, and teach the children on how they can prevent HIV." Alice says.
During the Children's Corner session, facilitators like Alice teach the children songs, guide their play, and advise them on good behaviour. Some of the games the children play include skipping and football. They also take part in drama activities. "When the children are engaged in these activities, we want them to relax and forget about their worries. The physical activities also improve their health," Alice explains. "The UNICEF training opened our minds to how we can help the children. We learned a lot of things which we did not know. After the training we also received a recreation kit." She added.
Sositeni loves the Children's Corner
Sositeni Gelavasio, 11, is one of the participants of Chikondi Children's Corner. He is the third born of 35-year-old mother Loyce James. There are four children in his family. His mother Loyce has struggled to take care of the children since their father abandoned the family a few years ago to go to Mozambique in search of work. "I sell firewood and banana fritters for a living, which earns me about 1,000 Kwacha [£1.04] a day when I am lucky," Loyce says.
"The money is not enough to look after four kids. Most times I am unable to buy food and clothes for them. My older children dropped out of secondary school because I could not afford to pay for their school fees."
The family's financial problems led Sositeni to start collecting and selling empty bottles at the nearby Kamwendo Trading Centre. "During examination time, I am unable to pay for Sositeni's exam fees so he goes to the trading centre to pick up bottles and sells them to try and get some money," Loyce explains. "I don't like my child selling bottles and I feel sorry for myself when he does this, but I allow him to do it because of the financial problems we face," she adds.
Like his mom, Sositeni would prefer not to sell bottles at the trading centre. "Things were better when my Dad was around. We didn't have to worry about food, clothes or notebooks," he says. "I don't like selling bottles because I find them in nasty environments. I also get harassed and beaten by men who are also selling bottles. They tell me I'm a child and I'm disrupting their business. They take my bottles away from me, I run away and come home penniless."
Despite their problems, Sositeni's mom is happy that her son attends Chikondi Children's Corner.
"The Children's Corner gives the children something good to do. When they are home, they have nothing to do at all," she says. "I want my son to have a good future and take care of me when I'm old. But the challenges that we are facing at home  could prevent that from happening."
Sositeni's favourite sport is football, which he plays with his peers at the Children's Corner. "I play as a striker and my favourite team is Chelsea," he explains with a smile. "My heart is happy when I go to the children's corner. I face a lot of problems in my life, but when I'm at the children's corner I pass time and forget my problems."
Sositeni's favourite subject at school is maths. "I want to be a doctor when I finish school because I want to prevent Malawians from getting sick," he says. "I'm sad when I skip school to sell bottles because it makes me feel like I won't achieve my dreams."
UNICEF Support
UNICEF works with the Malawi Government to support Children's Corners and provide learning and play materials for children. Moreover, UNICEF works to build the capacity of caregivers, and undertakes program monitoring. This is to ensure that children have a safe space to play, but also to provide them with a reporting mechanism for those who are experiencing trauma and other violence. Children's Corners also provide children psychosocial support and life skills education.
"Every child has the right to experience a safe, healthy and fulfilling childhood. Children's Corners provide this experience for girls and boys in Malawi, especially for the most vulnerable and marginalized", says Afrooz Kaviani Johnson, Chief of Child Protection, UNICEF Malawi. "Children's Corners provide a safe space for children and equip girls and boys with life skills and confidence that they then apply in school and other areas of life. UNICEF will continue to work with the Government of Malawi and partners to scale up Children's Corners and other transformative community-led interventions to realize children's rights."
UN entities involved in this initiative
UNICEF
United Nations Children's Fund