UN urges for sustained fight for gender equality in Malawi
Stakeholders should tackle both emerging and existing gaps in the realization of gender equality, especially in the COVID-19 context - said Torres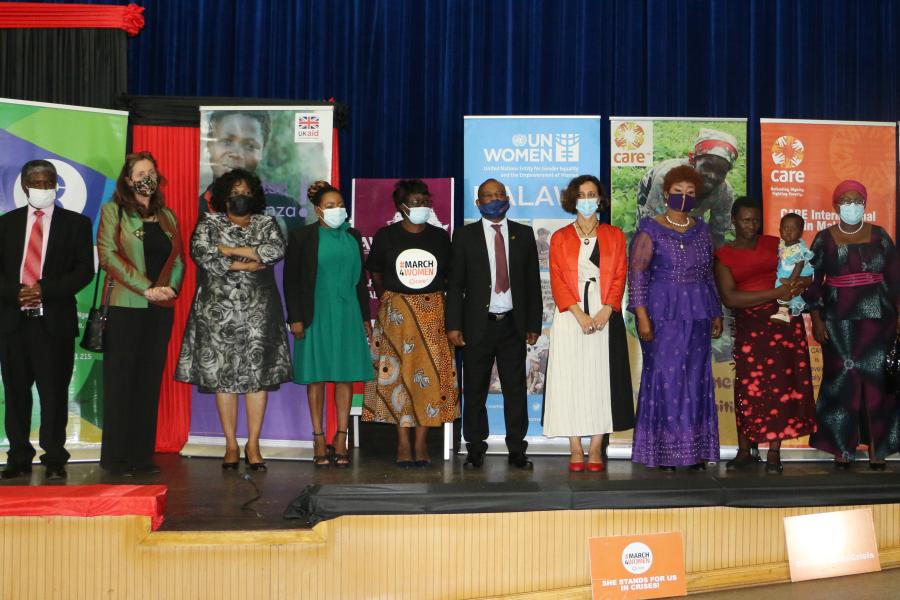 Photo | UNMalawi/2021/Bennet
United Nations Resident Coordinator Maria Jose Torres has urged women in the country to continue fighting for equality despite that the COVID-19 pandemic has aggravated challenges such as gender-based violence (GBV).
She said this on 8th March in Lilongwe at the national launch of the commemoration of the International Women's Day (IWD).
"As we commemorate International Women's Day, we realize that things are always changing but to an extent issues affecting women remain the same," said Torres. "This is why we have to think of a future, a future that is equal for all. This is because, if the issues will not be addressed, there will be no change and that means a future that is not equal for women and girls.''
She said new barriers have emerged with the COVID-19 pandemic across the world, including Malawi. Women are facing increased domestic violence, unpaid care duties, unemployment and poverty. Despite women making up a majority of front-line workers, she said there is disproportionate and inadequate representation of women in national and global COVID-19 policy spaces.
"Let us remember that the period between 2020-2030 was launched by world leaders in September 2019 as the Decade of Action and Delivery to implement the Sustainable Development Goals. It is important to ensure stakeholders tackle both emerging and existing gaps in the realization of gender equality and the empowerment of all women and girls, especially in the COVID-19 context," said Torres.
Minister of Gender, Community Development and Social Welfare Patricia Kaliati, who graced the event, said COVID-19 is a huge setback that has threatened to reverse the progress made in achieving gender equality as witnessed by the surge in teenage pregnancies, child marriage, gender-based violence and economic hardships since its onset. She added that there is also limited access to gender-based violence and sexual reproductive health services.
"To not leave women behind, we must ensure effective gender mainstreaming in COVID-19 responses and recovery. In line with the African Union Guidelines on Gender Responsive Responses to COVID-19, we will ensure the effective, equal and full participation of women, including grassroots women in all mechanisms established to prevent, contain and end the virus.
"These include national response and recovery plans, emergency protocols and all other national decision-making structures like National COVID19 task forces and committees, cabinets, institutions and commissions as well as response and recovery decision-making processes," said Kaliati.
On her part, African Leadership Network – Malawi Chapter Chairperson Emma Kaliya said government and partners should ensure they uphold the rights of women and build capacity for women and girls in order to elevate them in various developmental activities.
International Women's Day is commemorated every year on 8th March and this year's theme is: Women in Leadership at All Levels: Achieving an Equal Future in a COVID-19 World.
UN entities involved in this initiative
UN Women
United Nations Entity for Gender Equality and the Empowerment of Women
UNFPA
United Nations Population Fund
UNHCR
United Nations High Commissioner for Refugees
UNICEF
United Nations Children's Fund