Sustainable Development Goals
No Poverty
Zero Hunger
Good Health and Well-being
Quality Education
Gender Equality
Clean Water and Sanitation
Affordable and Clean Energy
Decent Work and Economic Growth
Industry, Innovation and Infrastructure
Reduced Inequalities
Sustainable Cities and Communities
Responsible Consumption and Production
Climate Action
Life Below Water
Life on Land
Peace, Justice and Strong Institutions
Partnerships for the Goals
Contact information
maleryani@immap.org
1 June 2022 | 10:00 PM - 3 June 2022 | 9:59 PM
2022 Malawi Data Summit!
Malawi will hold the 2022 Data Summit: Harnessing Data and Technology to Enhance Humanitarian Response and Community Resilience next week on 2-3 June!
Location
Lilongwe
Malawi Government, iMMAP, USAID and United Nations
Lilongwe
Malawi
1 June 2022 | 10:00 PM - 3 June 2022 | 9:59 PM
About the event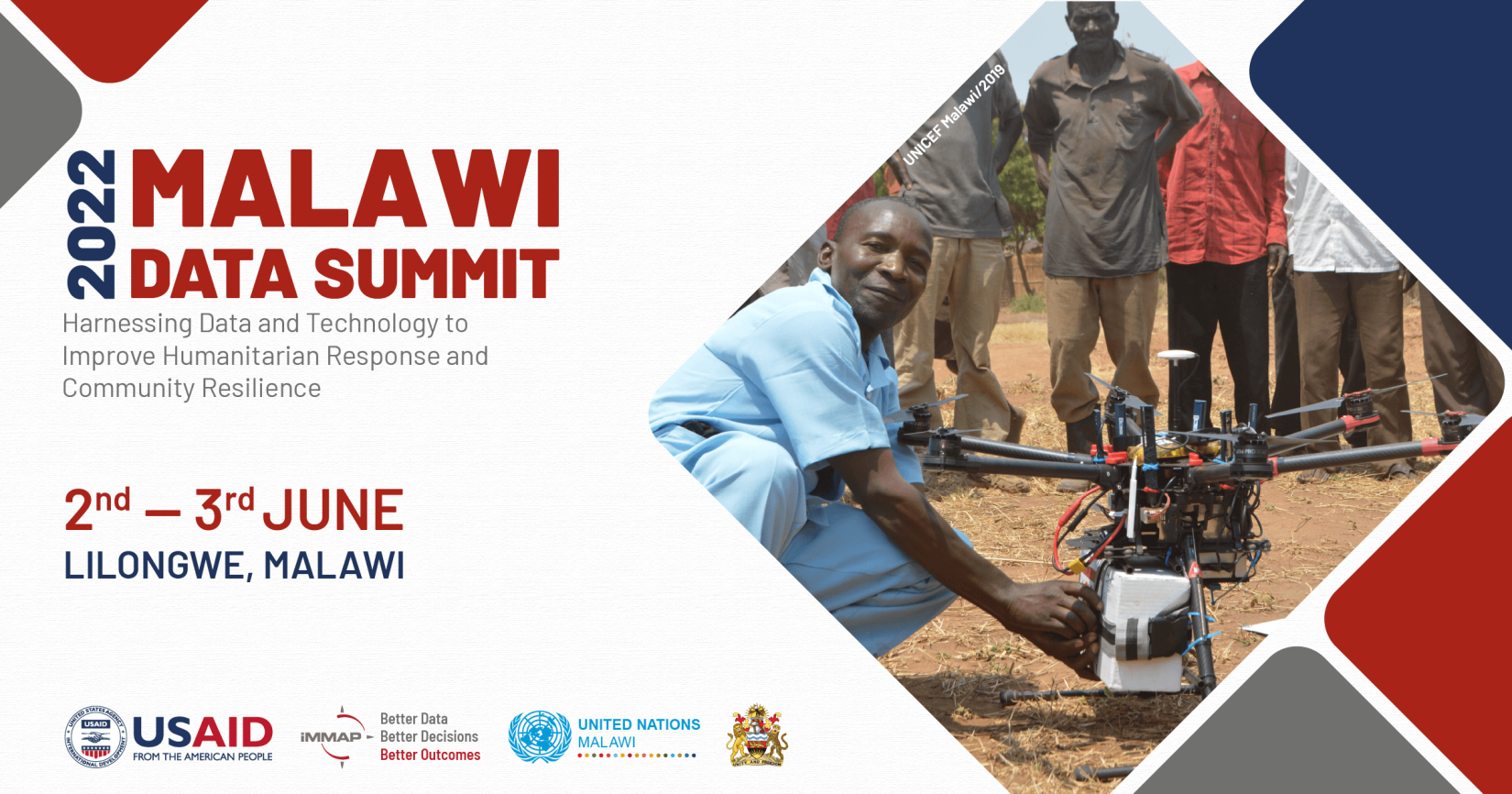 Malawi Data Summit 2022: Harnessing Data and Technology to Enhance Humanitarian Response and Community Resilience
The Malawi Data Summit is a two-day event taking place on June 2nd and 3rd to bring together leading experts in leveraging data and recent technologies to enhance humanitarian response and community resilience.
This event aims to create a space for knowledge sharing and peer learning on existing and future innovations in information management and how they can be applied to localized contexts. Themes will revolve around big data, remote sensing, and artificial intelligence (AI) and how they fit into the data ecosystem of Malawi.
The conferences on the first day will focus on humanitarian data landscape and innovations. It starts with a brief introduction on the topic of the data revolution, especially Big Data, and how it has impacted our lives and the significant improvements and challenges it has brought to the humanitarian sector. Furthermore, the first day brings a collection of virtual and in-person conferences to allow participants to understand different experiences in managing data and tools for crises and disasters.
The second day will focus on new data approaches for sustainable development. AI and ethical issues in sustainable development will open the day to give a step to real and outstanding applications of data and technology for developing different sectors in the region. The day will close with a high-level panel discussion on the strengths and weaknesses of Malawi's data ecosystems for development and humanitarian response.
The Malawi Data Summit will be an opportunity to understand how the application of these innovative technologies has proven their effectiveness in humanitarian and development interventions.
It will also be an opportunity to interact with experts from UNICEF, the Netherlands Red Cross, Data-Pop Alliance, UNDP, Flowminder, FAO, the Africa Drones Academy, WFP, iMMAP, Global Partnership for Sustainable Development Data (GPSDD), ELLIS Alicante Foundation, UNRCO Malawi, and beyond.
The event is organized by iMMAP, UNRCO Malawi, the Government of Malawi, and funded by USAID-BHA.
Interested in attending this event online? Register Here: https://immap.org/malawi-data-summit-2022/
Do you think others might be interested in joining this event? Share it! This free event is open to all