Jalo Primary School gets easy access to clean water
Teacher's lives have also improved. Getting ready for classes in the morning used to be a nightmare.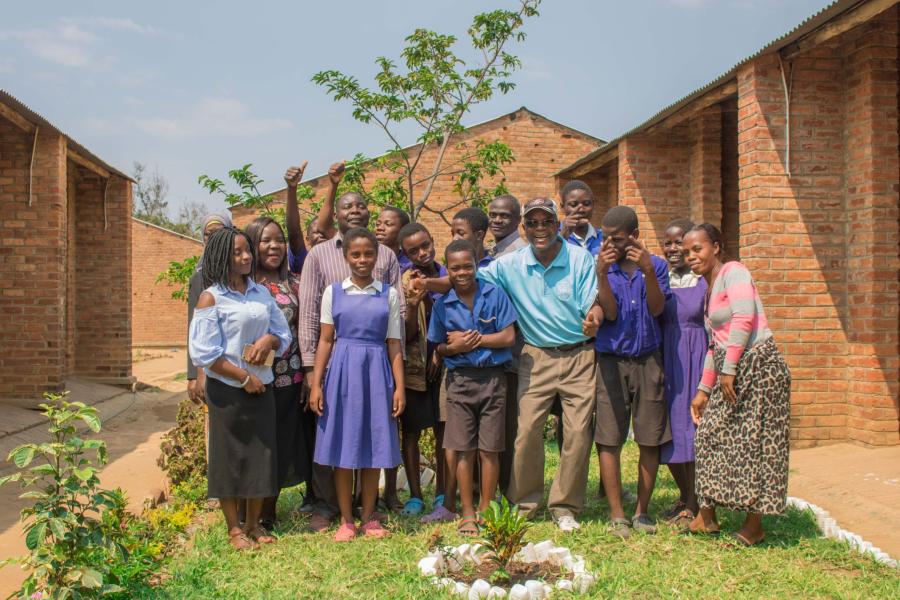 Photo | UNICEF Malawi/2019/Blessings Phodogoma
Jalo Primary School is situated in Nkhotakota district, northern Malawi, and is home to 2,155 students (1,103 girls and 1,052 boys). In summer, the school can be scorching hot due to the warm air that blows over from nearby Lake Malawi. Despite the school's proximity to the lake, it has had water problems since it was established in 1978.
Water struggles at school
Wezzi Kalikundi, 12, is in the last year of primary school at Jalo school and she recalls life before they had solar powered water pumps. "We used to get water from the village borehole, about a kilometre away. On bad days, community members would refuse us to get water or make us wait in long queues which made us miss classes." she says.
Wezzi, has spent the last three years in Jalo village. Dressed in her blue uniform, she explains that her school is a beneficiary of the school feeding program, and that without easily accessible water it was difficult to maintain good hygiene around the kitchen and feeding area, school surroundings and toilets. "The school feeding program was very inconsistent due to lack of water. Fire wood and labour were readily available, but we were not able to eat porridge daily due to lack of water" she adds.
Wezzi's headteacher, Mr. Mwale, adds that the rainy season made things worse, the available water from unprotected sources made children sick. "Children would skip classes because of water related illnesses." he adds. In summer, the community borehole would run dry and children suffered with no water at the school."
Water has made life easy
All this changed when UNICEF constructed a solar powered reticulated water system at the school as part of the Living Schools Project. The solar water system has two taps that supply safe and chlorinated water to the school and two other taps that supply water to teacher's houses and the surrounding community. A total of 2,155 students benefit from the water system, as well as teachers and the wider community.
Wezzi shares what has changed at the school: "Our classrooms are clean, we sweep them every morning and mop them twice a week. The toilets are also very clean and smell good. We clean them very frequently because of all the water that is available. The cooking area is also very clean with cooking utensils equally clean. I love coming to school now. The water has made our lives very easy."
Teachers are saving time and the school is saving money
Teacher's lives have also improved. Getting ready for classes in the morning used to be a nightmare. Teachers had to queue in long lines at the boreholes. Now that water is readily available, they no longer scramble for water with the rest of the community.
"I have been here for seven years and I was ready to leave because of lack of water. Now I like working in this community. Water for cooking and laundry is readily available. I have even stated a vegetable garden at home which is bringing extra income into my family" said Mr Nyondo, the deputy head teacher for Jalo primary school.
Jalo School looks green
In addition, the school surroundings are green with flowers and grass around the classrooms. "We have also established a vegetable garden at the school to supplement the diet for the school feeding program. Our school feeding program diet is more diverse now, which has attracted new learners and reduced absenteeism." said Mr Nyondo, the deputy head teacher for Jalo primary school.
Solar powered lights have improved our final year results
In addition to providing water, the solar power at Jalo has also been used to light classrooms that had no lights.  Last year during the end of primary school examinations preparation period, students used the lights to study during the evening and early morning hours. This has resulted in 22 students from the school being selected to high ranking secondary schools within the country. This year, a lot more students have already started using the classrooms for morning and evening studies to improve their chances of getting into secondary schools.
Support from UNICEF
The UNICEF Living Schools project aims to increase access to quality basic education for Malawian children by making schools more resilient to climate change.  In addition, it hopes to improve access to quality education with resilient teachers, students and communities. This contributes to the retention and completion of primary school education within a safe, healthy and engaging school environment.
For Jalo, this includes the solar water system and lights in classrooms that allow students to study into the evening hours and increase their chances of proceeding to the next level of education.
"The provision of safe water in schools is critical in promoting quality education. Safe water allows children to learn in a clean environment and reduces the spread of diseases that may affect attendance at school," says Kimanzi Muthengi, UNICEF Malawi Chief of Basic Education and Adolescents. "The water is also key in the greening of the Living Schools, as children begin planting trees, grass, flowers and fruits."
UN entities involved in this initiative
UNICEF
United Nations Children's Fund