Build back better after Malawi floods
After the March 2019 floods, the World Food Programme is supporting 20,000 families to prevent future weather disasters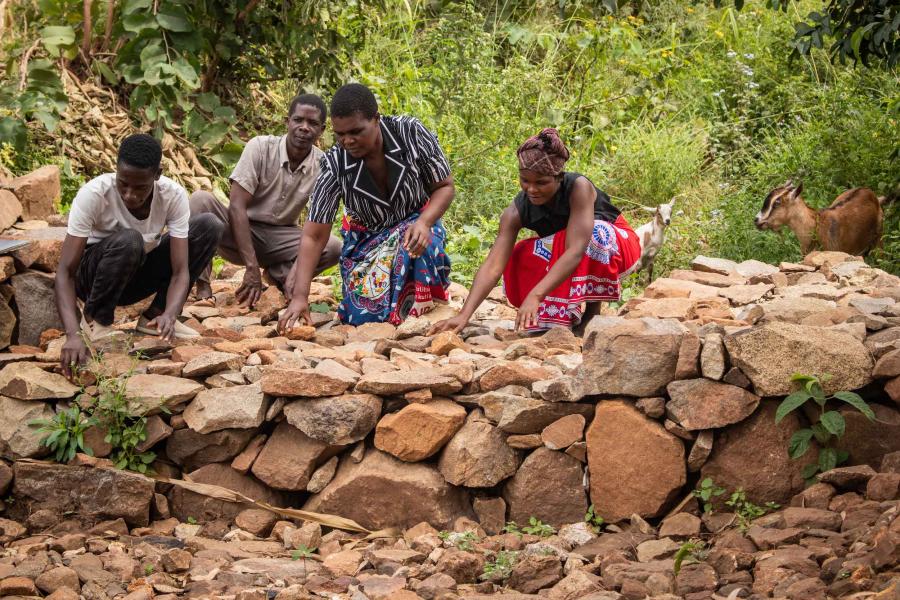 Photo | WFP Malawi Badre Bahaji
"My house was demolished, and my crops were washed away during the floods. We lived in a camp for two months. While in the camp, we received cash to buy food.  We are now constructing check dams and planting trees to be better prepared in case of another disaster" says Aligesi Laimoni from Chithumba village in Traditional Authority Chapananga in Chikwawa district.
Meza village in Traditional Authority Chimombo, is another community that was severely affected by floods in the district. In the middle of the night, Felix Saphiya was woken up by the sounds of the heavy rains and his children crying loud. When he went out, he found the entire base of the house submerged in water. He managed to save his children and the house collapsed the following day.
"Soon after the emergency we were supported with food and later cash by WFP. We also received seeds and farming tools. We planted, and we expect to harvest any time.
"We are currently rehabilitating a feeder road connecting to the newly tarmac road which is under construction. It will assist us in transporting our crops from the farms," says Felix.
"The road was badly destroyed by the flooding water and became impassable and difficult for ambulances to move patients. We are helping to rehabilitate this road in a way that even if the rains come again, it will be able to resist the floods. We want to make this road an example," he concludes.
From July to December 2019, WFP is assisting 20,000 families to rebuild infrastructures and assets damaged by the floods. Communities in six hardest-hit districts of Nsanje, Chikwawa, Phalombe, Zomba, Mangochi and Machinga are prioritised through different types of interventions.  
It has been six months since floods hit hard 800,000 people in Malawi, killing 60 people, displacing 90,000 families and destroying livelihoods. Most of the affected households lost belongings and most of the time their crops. The community assets were also extensively damaged in some communities.
Recovery activities focus on enabling floods-affected communities to rebuild damaged infrastructures and their livelihoods. Participants receive food or cash to meet their immediate needs while they work on recovery activities such as clearing of debris, repair of damaged feeder roads, flood protection measures; irrigation scheme rehabilitation; and winter cropping among others.
Restoring livelihoods is key to boosting food and nutrition security and building resilience to climate shocks. The Government has activated the Early Recovery Cluster to enable effective coordination of the post-emergency response.
After consulting with communities through a Community Based Participatory Planning Approach, priority actions were selected by participants and included road and bridge rehabilitation, flood control dykes construction, check dam construction, tree planting, irrigation schemes rehabilitation, backyard gardens, or compost manure making.
UN entities involved in this initiative