Playing as one for better health, Malawi shines at UN All Africa Games
The UN Africa Games are held every year to promote good health and wellbeing among UN staff while also fostering unity.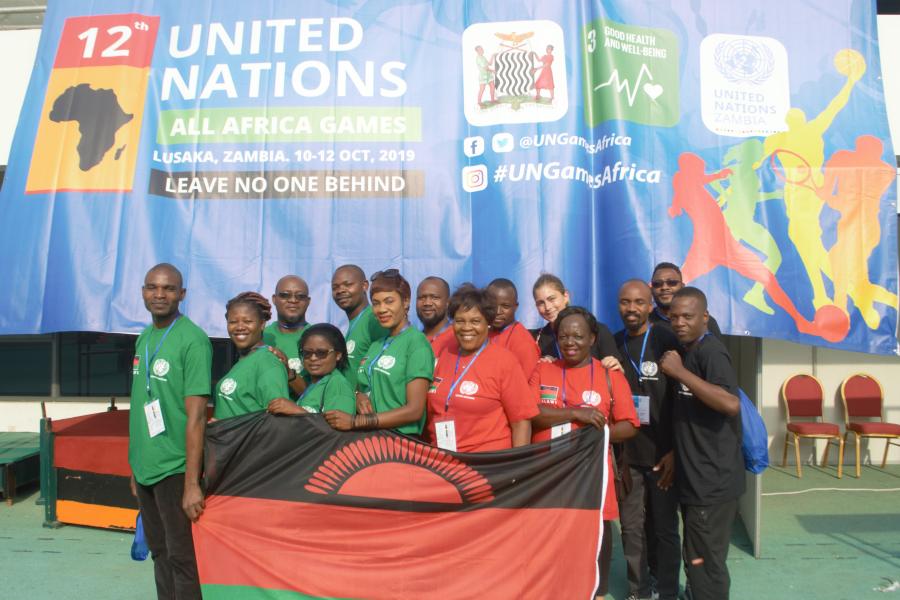 Photo | UNICEF/ Rebecca Phwitiko
Staff from UN agencies in Malawi participated in the 12th UN Africa Games which took place in Lusaka, Zambia, from 10th to 12th October 2019. The UN Africa Games are held every year to promote good health and wellbeing among UN staff while also fostering unity.
In her opening speech, the UN Resident coordinator in Zambia Dr. Coumba Mar Gadio congratulated participants for taking part in the UN games which she said are an effective way to fight non-communicable diseases and contribute to achievement of SDG 3 on good health and wellbeing.
Countries competed in netball, volleyball, football, basketball as well as individual sports such as squash and athletics. Malawi joined UN colleagues from 14 other African countries; Mozambique, Angola, Nigeria, South Sudan, Namibia, Lesotho, Kenya, South Africa, Eswatini, Democratic Republic of Congo (DRC), Zimbabwe, Botswana, Zambia and South Sudan.
Zambia's Minister of Youth, Sport and Child Development, Emmanuel Mulenga, hailed the good partnership between the UN Zambia and the Government.
It was the first time for Malawi to participate in the tournament. The Malawi team registered for netball, volleyball, badminton and athletics. UN Malawi partnered with other countries to form teams in other disciplines; with Kenya for golf, Mozambique for basketball, Angola and Mozambique for football, with Botswana for badminton doubles, and with South Africa for the relay race.
UN Malawi team won gold medals for netball, golf, badminton mixed doubles and women doubles as well as silver in the 400 metre race, volleyball, badminton men's and women's singles. The team also won a bronze medal for basketball.
The three-day event offered opportunities for UN staff from different countries to interact. Participants were also treated to a cultural evening where countries showcased something from home by performing traditional songs and dances.
"We went to Zambia for sports, but in doing that we met and interacted with colleagues from many other countries and appreciated the idea of working as one. The UN Games are a powerful networking and sharing platform for UN staff from different countries but also internally, within countries," said Laurent Jere, a participant from UNICEF Malawi.
The 21-member UN Malawi team comprised staff from FAO, UNICEF, UNDP, WFP and RCO. The next UN All Africa Games will be help in Kenya in 2020.
UN entities involved in this initiative
FAO
Food and Agriculture Organization of the United Nations
ILO
International Labor Organization
IOM
International Organization for Migration
UN Women
United Nations Entity for Gender Equality and the Empowerment of Women
UNAIDS
Joint United Nations Programme on HIV/AIDS
UNDP
United Nations Development Programme
UNDSS
United Nations Department of Safety and Security
UNFPA
United Nations Population Fund
UNHCR
United Nations High Commissioner for Refugees
UNICEF
United Nations Children's Fund
UNV
United Nations Volunteers
WHO
World Health Organization