COVID-19 and parenting in Malawi
Like many people, Victor must now work from home. He has had to do more work than usual as his organization is involved in the COVID-19 response.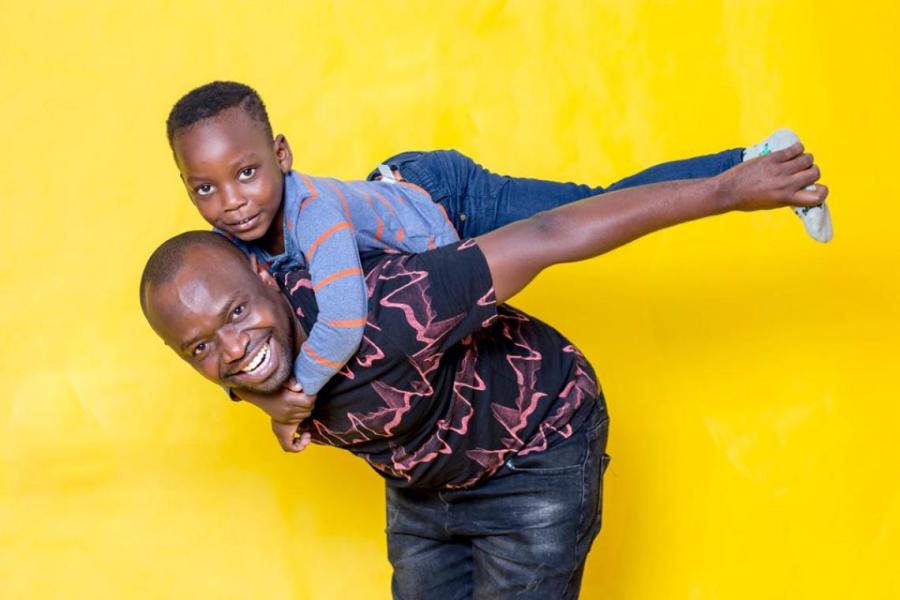 Photo | UNICEF Malawi/2020/Victor Mangani
How dads are juggling changing routines
Victor Mangoni is an IT officer for a local NGO, the Women's Legal Resource Centre (WORLEC) in Blantyre, Southern Malawi. He and his wife Grace have two children: five-year-old Brian and baby Rebecca, who is just five weeks old.
Victor is generally a busy person but has always made time to spend with his son. "In the morning we have breakfast together, then I would drop him off at school on my way to work. In the evening, I play with him, have dinner, and I put him to bed," says Victor.
And now with the latest addition to the family, baby Rebecca, he makes time for her too.  But it hasn't been easy since the coronavirus started spreading across the world and into Malawi, disrupting lives, work and school schedules.
Changing times
Like many people, Victor must now work from home. He has had to do more work than usual as his organization is involved in the COVID-19 response, sending out communication to their partners and the public.
"It's very difficult to work at home even if you lock yourself up in your room. I just can't ignore a crying child and endless knocking. My daughter was delivered through c-section on 31 March, so I have to support my wife.  It's not easy, but it's manageable," explains Victor.
He plans out his day, ensuring that all urgent work is taken care of. For his son Brian, not going to school has been challenging. Brian misses his friends and doesn't know when he will see them again. He is not allowed to play with other children in the neighbourhood, to protect him from COVID-19.
The school he attends has not started an online learning programme, but his father has downloaded some educational videos, which they are using as they wait to hear from the school.
Working on his laptop with just one hand while holding his baby daughter with the other has become Victor's new 'normal' for now. He meets his work deadlines and keeps his children happy.
"Even with COVID 19, you can never be too busy for your children. Fit them into your schedule, no matter how tight it is. It's not a mother's sole responsibility to look after the children. Children also need their fathers' time, love and affection."
UNICEF Malawi's Chief of Education and Adolescents, Kimanzi Muthengi, says infectious diseases like COVID-19 can disrupt the environments in which children grow and develop.
"Disruptions to families, friendships, daily routines and the wider community can have negative consequences for children's well-being, development and protection. It is, therefore, important for parents to play and show affection to their children, keeping them engaged and stimulated to reduce stress and anxiety.
"When fathers step up, it makes a valuable difference in a child's development. Both fathers and mothers must initiate early learning activities such as reading to them, tell them stories or singing with them; taking them outside, playing with them; and naming, counting or drawing with them," explains Muthengi.
Adjusting and adapting
There are 57 confirmed cases of COVID 19 and three deaths in Malawi as of 11 May 2020. UNICEF is supporting the Government to mitigate the impact of the virus on children's survival, health, well-being and education, and in stopping the spread of the virus.
UNICEF is procuring essential supplies, supporting with screening and testing, dissemination of COVID 19 prevention messages and supporting the Government in ensuring continuity of services such as social protection, social welfare and education through online and radio platforms.
UNICEF is also advising parents to stay protected and follow appropriate preventive measures at home like washing hands regularly with soap so that they can take care of the children without the risk of transmitting the coronavirus.
Another super dad is finding alternatives for his children who are not able to play with their friends. Mazunzo Chimasula, a French Language Instructor at Chancellor College, says he and his wife take their children along to their farm where they enjoy helping with small tasks like watering vegetables and feeding little chickens.
Their oldest, Maziko is 9, Mathando is 5, and little Mandisa is a year and a half. A private tutor helps them homeschool older children.
"It's fun because Mathando has just learnt how to read, and as a parent, I have to give that listening ear as she demonstrates her newly acquired skill," says Mazunzo.
The only challenge with homeschooling is that there are a lot of distractions at home, like the TV for instance, so their attention is divided.
Mazunzo's office work now mostly involves checking and responding to emails, conducting student consultations as well as reading books and journal articles.
"At least I don't have to make the 1-hour commute to work now. I am home taking care of my children. But they miss going to school as well as visiting friends and public places like playgrounds due to the increasing risk of COVID 19. The farm gives us some solace."
UN entities involved in this initiative
UNICEF
United Nations Children's Fund